Personal Trainer in Lavender Bay
Personal Trainer in Lavender Bay. Join the personal training and couples training programs with Gloria Lopez Fit in Lavender Bay and enjoy the views of the beautiful Sydney Harbour as we help you to become the strongest, fittest, and best version of yourself.
Not only have I managed to partake in competitions, but I also been able to
sustain my results
and develop
healthy lifestyle
habits. Now at 45, I am still hitting the weights in the morning, and dressing up in my favourite outfits at night.
Welcome
to Gloria Lopez Fit
Personal Trainer in Lavender Bay
My name is Gloria Lopez, and I have been a Bikini and sports competitor for the last 5 years. Now 45, I have been in love with
physical health and fitness since
I was 18 years of age, always chasing more ways of developing how
my body looks and functions.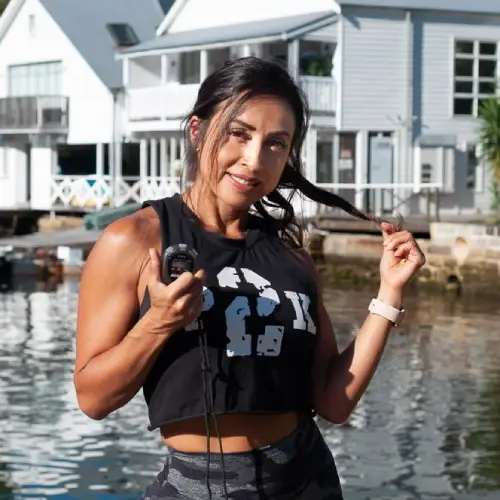 Teamwork with physical fitness and activity into the workplace.
Showing you how to make a real difference
My training philosophy is based on Functional training. Functional movements are those that humans were built for – movements we use in everyday life such as…
If you want to
feel
your body,
learn
graceful movements,
express
your inner world by means of dance – let me show you how! 
I have been a qualified Zumba instructor since 2016, holding certifications in Zumba Basic, Zumba Gold (originally created for the older active adult) and Zumba Kids. I also offer Zumba Chair sessions.

A total workout, combining all elements of fitness – cardio, muscle conditioning, balance and flexibility, boosted energy and a serious dose of feeling and looking awesome each time you leave class!
It is the complete health package and I am in love with the program – it brings so much joy as I get to spread happiness through dancing and exercising!
Let's build your best version yet!
Being physically active can reduce the risk of disease, strengthening bones and muscles. 

Focusing on your health targets and achieving the body that you want for yourself.
Properly building up your core cranks up the power, enhances balance and stability.
Powerlifting helps optimize performance while improving strength and power.
Circuit training improves cardiovascular fitness, reduced blood pressure and cholesterol.
Achieve your targets respecting your body and your own timeframe.
Photos From Our Workouts!
Tuesday-Friday: 6am to 6pm
Saturday: 8am to 12pm
Sunday: Closed
Tuesday: 12:15pm
Wednesday: 5:30pm


Please contact me for availability of these classes.
Or send me a message here and I will get back to you ASAP!